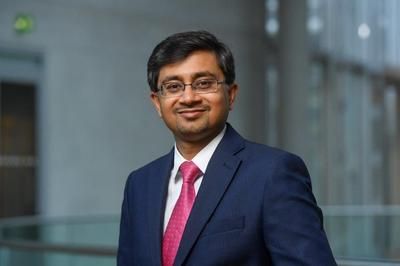 Ankur Rastogi, Group Head – IT Application Management, Transition & Cloud Migration; Senior Director, Deutsche Lufthansa AG, is an MBA, with specialisation in Information Technology & Marketing, and has more than 20 years of international & multi-cultural experience in IT & management consulting.
"I have lived and worked in different geographical regions (UK, India, multiple African countries and now since the last 10 years, in Germany)," says Ankur. "During this tenure, I have handled a variety of roles across both large and small enterprises like Lufthansa Group, Lufthansa Cargo, Oracle, HP Enterprises and QS Advisory."
"In my career, I have been fortunate to have worked with all stakeholders that are usually involved in IT supply chain, namely Buyer, Supplier and an Advisor who connects the two."
At Lufthansa Group, Ankur is the Group-wide process owner for IT Transition & Operations: "I am responsible for what I refer to as the four pillars of process standardisation, selecting & managing the right partners, incorporating industry best practices, and utilising the technology platforms like cloud and automation." Ankur is also heading the central cloud team which has the mandate for group-wide cloud adoption, creating and managing the cloud strategy, and migration of the entire application portfolio to cloud.
Piecing Together Solutions
At the forthcoming Frankfurt Cloud Expo, Ankur will be speaking about digital transformation and how cloud is becoming a key pillar behind it. "For many organisations, cloud continues to be an infrastructure platform," says Ankur. "However, I believe cloud is a building block behind an organisation's digital journey. It should be embedded in organisations' digital strategy."
"With new operating models, democratisation of technology, and the evolution of cloud platforms, stakeholders can piece together native solutions provided by cloud to create new business models. Cloud brings a paradigm shift in how we approach IT."
Sustainable Connections
Ankur explains that the purpose of Lufthansa is to connect people, cultures and economies in a sustainable way. "We would like to create seamless and connected travel experience across different touchpoints and our different airlines. To achieve this mission, we would like to leverage the potential of innovation and digital transformation to develop customer centric products and constantly increase efficiency."
Ankur adds that digital transformation is embedded in Lufthansa's business strategy. "We aim to expand our position as one of the most innovative and digital airline groups in the world."
Well-Oiled Service Orchestration
With respect to migrating a complete business portfolio to the cloud, Ankur says that it is not just an infrastructure platform. It helps in building and modelling new business solutions. "Cloud provides a lot of benefits – for instance, agility, flexibility, resiliency, scalability and elasticity. Cloud computing makes backup, disaster recovery, and business continuity easier and less expensive. Cloud also helps optimise the consumption of services and provides adaptability to unexpected market conditions. Additionally, cloud adoption helps in contributing towards sustainability."
At the same time, cloud comes with its own set of challenges, but only if not adopted in a correct manner. "Technical debt in applications causes unexpected challenges when moving to cloud," explains Ankur. "Not every application is designed for cloud and we should avoid force fitting them there. Cloud also requires a well-oiled service orchestration and management layer."
"Most importantly, cloud forces us to disrupt our existing and old processes across many different areas."