14 Apr 2022
Cyber Security Rating provides evidence of company-wide security posture and reveals risks from third parties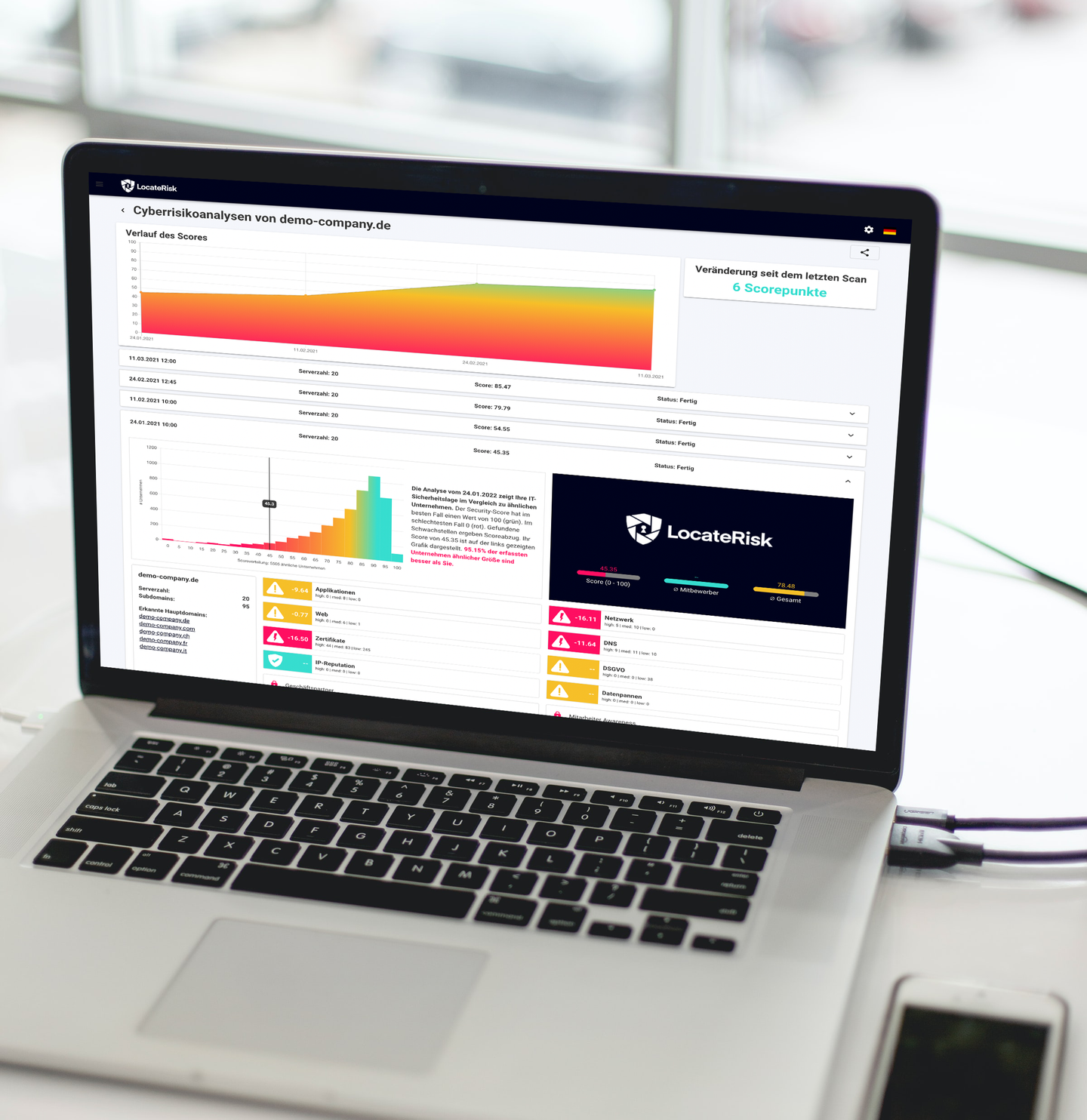 Darmstadt, 14 April 2022 – The War in Ukraine has further exacerbated the tense cyber threat situation. Companies are challenged to minimise their own IT attack surface as well as the risks from connected third-party companies. For quick support, LocateRisk offers all organisations a security assessment of their externally accessible IT infrastructure - free of charge - upon request.
Protection against cyber attacks in the EU - LocateRisk wants to help
A wave of cyber attacks is expected in response to sanctions against Russia. Across Europe, security authorities are advising increased IT security precautions.
The problem: many organisations are unaware of the extent of their IT attack surface. LocateRisk, a company specialized in cybersecurity located in Darmstadt, the stronghold of IT security in the EU, wants to change that by conducting a non-invasive IT risk rating of the externally accessible IT infrastructure for all interested companies. The results are discussed in a half-hour online meeting.
There are no obligations associated with this free and non-binding offer of support. If you have any questions about the initiative or the technology, simply contact us at +49 6151 6290246 or via email at em@LocateRisk.com.
"With this initiative, we want to set an impulse for more awareness and education among business leaders. We see so many critical vulnerabilities every day that simply don't have to be there," says Lukas Baumann, Founder of LocateRisk.
GDPR compliant external attack surface monitoring with one platform
LocateRisk enables more efficiency, transparency and comparability in IT security with automated, KPI-based IT risk analyses. Decision-makers from management and IT receive a comprehensive report on the security situation of their company-wide IT infrastructure in less than 48 hours. Using the LocateRisk score, which is based on publicly available data from hundreds of sources, the current IT security status can be assessed and compared, and the effect of implemented protective measures can be proven through regular monitoring.
The automated analysis of the IT attack surface uncovers outdated applications and encryption mistakes, configuration errors, GDPR violations as well as data breaches and provides the corresponding recommendations for action right away.
In addition, useful functions such as approvals, difference filters, action plan and an automatic email notification in the event of newly emerged vulnerabilities (CVEs) in identified systems ensure the fastest possible optimisation process. The analyses can be exported in various formats and can easily be connected to enterprise ticket systems such as Jira or Splunk.
In addition to the company's own IT security situation, the solution also provides reports on the IT security of third-party companies and helps to implement third party risk management and M&A processes in a resource-efficient way.
IT monitoring and ratings - Made in Germany + EU certified security
LocateRisk's clients include organisations of all sizes and sectors - medium-sized companies and large corporations as well as ministries, cities, operators of critical Infrastructures and IT system houses. In 2020/21, the technology has already measured more than 4 million servers, benchmarked 50,000 companies and recommended 14 million actions to mitigate risk.
LocateRisk is a participant in the Alliance for Cybersecurity of the BSI and bears the "IT Security - Made in Germany" mark of the German IT Security Association. With ISO 27001 certified network and data centre partners in the EU, the company offers the highest level of data security.

Press Contact:
LocateRisk GmbH
Kristina Breuer
Heinrich-Hertz Str. 6 / 64295 Darmstadt
Email: kb@locaterisk.com
Telephone: +49 (0) 6151 6290246
Internet: www.locaterisk.com