11 May 2022
Bacula Systems Announces Availability of its Nutanix AHV backup and Recovery Module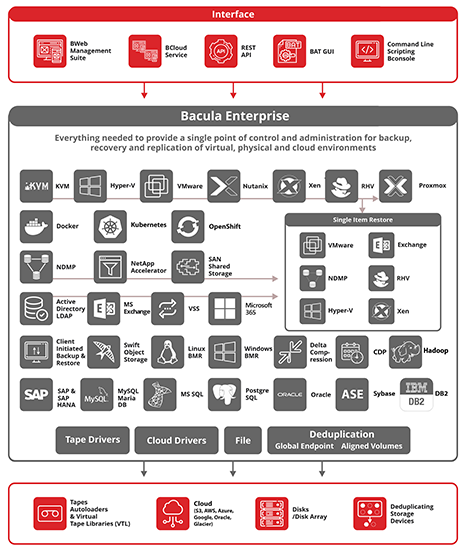 Allows Nutanix users to back up and recover applications and data using highly scalable, highly secure backup and recovery technology, across Physical, Virtual, Hybrid and Cloud Native environments
May 11, Cloud Expo Europe, Frankfurt, Germany - Accelerating its leadership in high performance backup and recovery for large enterprises and managed services providers, Bacula Systems today announced its Nutanix AHV module for Bacula Enterprise, which expands its rich feature-set across a broad number of different hypervisors.
Bacula Enterprise natively integrates with VMware, Hyper-V, Xen, KVM, RHV, Proxmox and now Nutanix installations of any size, allowing IT departments to perform backup and recovery operations from one platform. Some of the benefits of Bacula Enterprise's Nutanix module include:
Agentless deployment

Snapshot-based backup/restore

Support for any kind of guest VM

Hot copy: Online VMs supported (no need to shutdown)

Full, Incremental and Differential levels

Fast block level image backup through NDFS

Restore complete VM images

Restore network interfaces

Remote interactive snapshot deletion tool included
Bacula Enterprise also provides a Nutanix filer module with HFC technology.
"The unique ability of Bacula to cover so many different databases and virtual machines in today and tomorrow's IT departments becomes of especially high value when combined with Bacula's remarkably strong security architecture and its tools for protection against ransomware" said Jorge Gea, CTO, Bacula Systems. "For organizations working to meet the compliance and governance challenges of tomorrow, security needs to come first and this is the advantage that Bacula brings" said Gea.
"Bacula Enterprise is one of the very few scalable, Cloud and Edge-agnostic backup solutions in the industry that can also back up Docker, Kubernetes and OpenShift environments, including their persistent data. This combined with its security features, open source base and advantageous licensing model means it is increasingly being adopted by large military, government, MSPs, ISVs, HPC and other security and performance-demanding organizations" said Frank Barker, CEO of Bacula Systems.
Bacula Systems customers include NASA, Texas A&M University, Swisscom, Sky and many more.
About Bacula Systems:
Bacula Enterprise Edition is a highly scalable backup and recovery software for large organizations, data centers and MSPs. http://www.baculasystems.com/