21 Mar 2023
NetDescribe Wins Award "Kentik Partner of the Year 2022 EMEA"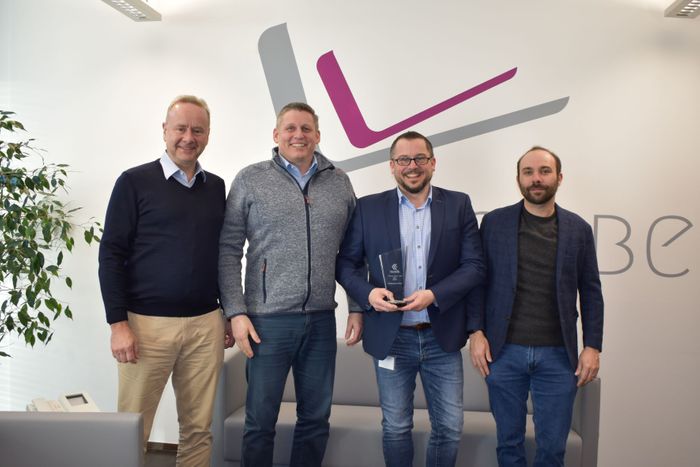 The Award "Kentik Partner of the Year 2022 EMEA" goes to NetDescribe! Well-deserved applause for an outstanding and successful cooperation! NetDescribe is very proud of this award and looks forward to many more projects with Kentik in 2023.
Forward-looking technology and professional teamwork are what make the partnership between Kentik and NetDescribe so successful. The award ceremony was held on February 7th in the Munich office. From Kentik came Justin Biegel, Co-Founder and COO, Christoph Pfister, CPO and James Clegg, International VP Sales. Together with our Key Account Director Ralf Weber, Elmar Prem, CEO of NetDescribe, accepted the award.
Elmar Prem thanked on behalf of the entire NetDescribe team. "We are mighty proud to receive the honor as Premier Partner in EMEA!
In 2023, we look forward to continuing our successful cooperation and mutual growth. Our teams appreciate open communication and the exchange of know-how. The productive sales and technical cooperation makes it possible for our joint projects to be implemented so successfully with the customer."
NetDescribe maintains the closest partnerships with the world's leading providers of future-proof IT technologies. The company actively shape innovations and value sustainable solutions with which their customers are satisfied in the long term.
Die Kentik Network Intelligence Platform ingests data streams from the Internet, edge, cloud, data center, and hybrid infrastructures and provides real-time visualizations and AIOps-powered insights and automation. The solution empowers IT managers in complex hybrid cloud environments to act preemptively and with agility.
Plan, operate and repair any network with Kentik SaaS, a scalable, powerful and easy-to-use network analysis solution. Kentik enables visibility into LAN/WAN/Cloud data flow, synthetic testing and graphical representation of communication relationships. In addition, the tool determines cloud transaction costs. Come and see the solution at STAND K060 at Cloud Expo Frankfurt.