19 Oct 2022
Interview Tim Schorno, Show Lead at Big Data & AI World Frankfurt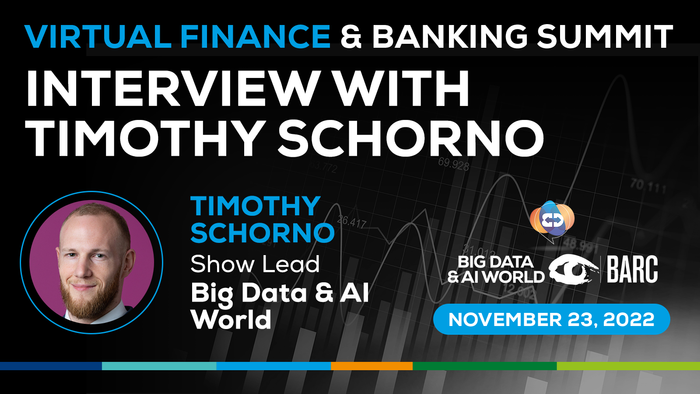 1. Why is it important for you to run the Virtual Finance & Banking Summit this year?
Financial organisations have long been - and are still - leading when it comes to adopting and innovating data-driven tech. Many of the leaders in banks in and around Frankfurt are attending or speaking at Big Data & AI World every year, which has created a community. These summits are an opportunity to keep the community connected and updated. If you want to work together on data, you have to find a common language. So the more you come together to discuss, the easier it gets.
2. Why is big data and AI crucial in the banking and finance industry?
Based on some direct feedback (but also from what you see in the news), the finance sector faces a lot of challenges. By working on these challenges that the sector innovates and finds new ways to collaborate, and data is at the core of this. Think of the Financial Big Data Cluster in Frankfurt, where organisations exchange data to tackle money laundering and sustainability. And there are more exciting projects and news that we want to address.
3. Why should people attend the summit?
As an attendee, you will get some of the leading experts of the industry in one (virtual) room. You will learn what people really think about some of the challenges of the industry, so you will be able to hear them thinking out loud. You will also get updates on some of the latest tech around. Last but not least, you can connect with virtually anybody else on the platform. Once connected, chances are, you will meet them again in May 2023, face-to-face.