11 May 2023
IMPOSSIBLE CLOUD CERTIFIES NEW GERMAN DATA CENTER, ACCELERATING WEB3 CLOUD EXPANSION WITHIN THE EU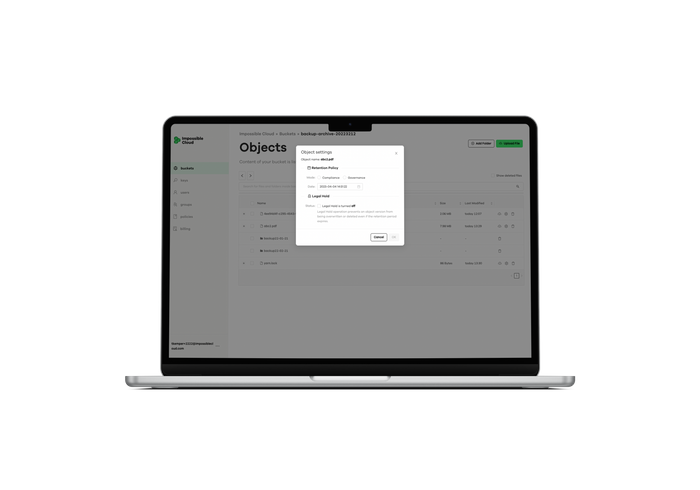 New Location Bolsters EU Geo-Fencing, Scalability, Compatibility, GDPR Compliance, Ease-of-Use and More for Impossible Cloud's Decentralized Solution
The announcement was made today during a keynote speech at the Cloud Expo Europe in Frankfurt by Daniel Baker, Impossible Cloud's CTO and co-founder.
"We carefully select data centers to address the specific needs of the world's most data-intensive regions worldwide, and can uniquely prioritize GDPR and other European data privacy compliance requirements," Baker said. "Our new location provides object storage within the EU, ensuring cloud autonomy in line with the European Data Alliance's goals, and is fully compatible with web2 and web3 systems globally."
Impossible Cloud recently announced the general availability of its enterprise-grade, native cloud storage solution delivering all the capabilities of traditional cloud storage along with the key benefits of decentralized web3 technology. It is the first decentralized, enterprise-grade cloud for fast, outage-proof, Kubernetes-friendly, AWS S3-compatible object storage, designed to enable switching from web2 via a single line of code and to deliver cost savings of up to 75%. Impossible Cloud's services can be procured using fiat currencies, eliminating a critical roadblock that has slowed B2B adoption of web3 technologies.
The new facility will offer Impossible Cloud and its customers virtually limitless scalability throughout Europe, with more than 8 petabytes of initial raw storage capacity, access to further enterprise data centers, and durability beyond "11 nines." Other flexibility- and capacity-focused features include:
Enterpise-grade, S3-compatible and easy to integrate object storage

Versioning, object lock / immutability capability ensuring retention of all stored files in their original version

Programmatic identity access management (IAM) allowing the creation of multiple users, access keys, sub-users and groups via API/CLI

GDPR-readiness needed for EU businesses as well as a sophisticated partner portal for distribution partners.
The new EU data center adheres to Impossible Cloud's robust security and reliability standards and features. Furthermore, Impossible Cloud's solution exceeds the highest industry standards with its proprietary orchestration and security software layer, with key features including triple encryption; Microsoft multi-factor authentication (MFA); and cross-origin resource sharing (CORS), an important security feature that helps prevent cross-site scripting (XSS) attacks and other types of malicious activity. Additionally, Impossible Cloud's solution seamlessly integrates with leading backup and disaster-recovery software like Veeam, Nakivo, Acronis, Comet Backup and many more.
Importantly, Impossible Cloud prioritizes data privacy compliance, including GDPR and US geo-fencing requirements. The solution's global network ensures all data is handled appropriately and provides full transparency into where data is stored, giving customers complete visibility and control over their cloud storage.
For additional information on Impossible Cloud's storage solution, including pricing, please visit: https://www.impossiblecloud.com/
# # #
About Impossible Cloud
Impossible Cloud is a revolutionary cloud platform that offers decentralized, multi-service cloud solutions. The platform is based on web3 technology and decentralized infrastructure, which allows it to be scalable, secure, and cost-effective. With just a single line of code, customers can access Impossible Cloud's Storage.

For more information, please visit: www.impossiblecloud.com.