17 Jul 2020
Rethinking the Cost of Ownership of Digital Infrastructure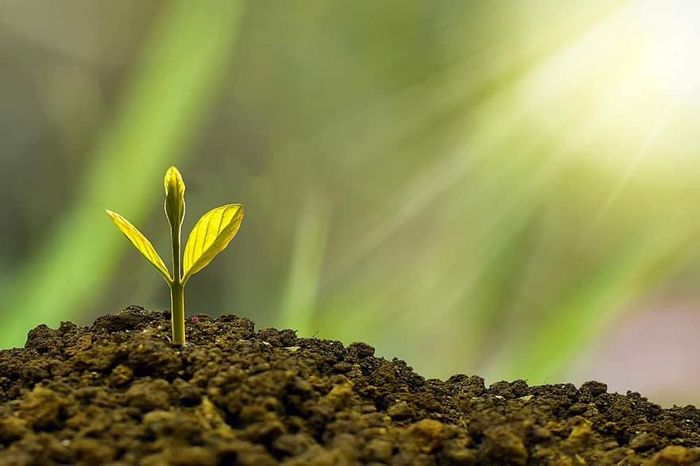 We can no longer measure the total cost of ownership for a Data Center solely in terms of economic costs for the traditional design, construction, and operation expense of a data center single site per megawatt installed.
We are living in a Connected Everything Era, with data centers rapidly expanding and depleting environmental resources. As an integral part of urban communities, they require abundant spaces and remain the primary driver of the global energy consumption in the foreseeable future.
This demand is disruptive during times of both peril and opportunity due to the COVID-19 pandemic.
COVID-19 has altered the demands of digital infrastructure 24x7 around the world. What we learned from previous economic dislocations, such as the dotcom bust or the 2008 financial crisis, is that data center providers adapt, emerge, and stay resilient.
For the past twenty years, the data center industry has averaged a tremendous growth rate of 6% per year globally. We all recognize more Data Centers are being built, especially post COVID-19, to support the exponential growth of surges in Digital Services.
The current demand of Data Center infrastructure becomes a beneficiary of COVID-19, as a result of the shift to a socially distanced, contactless, and work-anywhere new normal.
Corporate sector drives awareness
On Earth Day, Google made a big announcement regarding its commitment of carbon free energy and 24x7 matching of clean energy. Microsoft and Amazon CEOs stated their ambition to be carbon negative and have established Billion dollars clean energy investment funds on clean energy assets, respectively.
Within the past decade, the need for sustainability within the data center industry has gained awareness and importance. This shift is due to the demand to clean up the dirty Cloud by the Digital Services users and by the suppliers of cloud provider to inspire and make pledges for carbon neutrality with regards to its global energy consumption this decade.
The capital needed for change is available
The acceleration of net zero data center business models infuse new capitals to become available. A key priority for the industry is to have a sustainable future for our businesses that is not harmful to our environment or our society, ensuring a high quality of sustainable life for the current and future generations.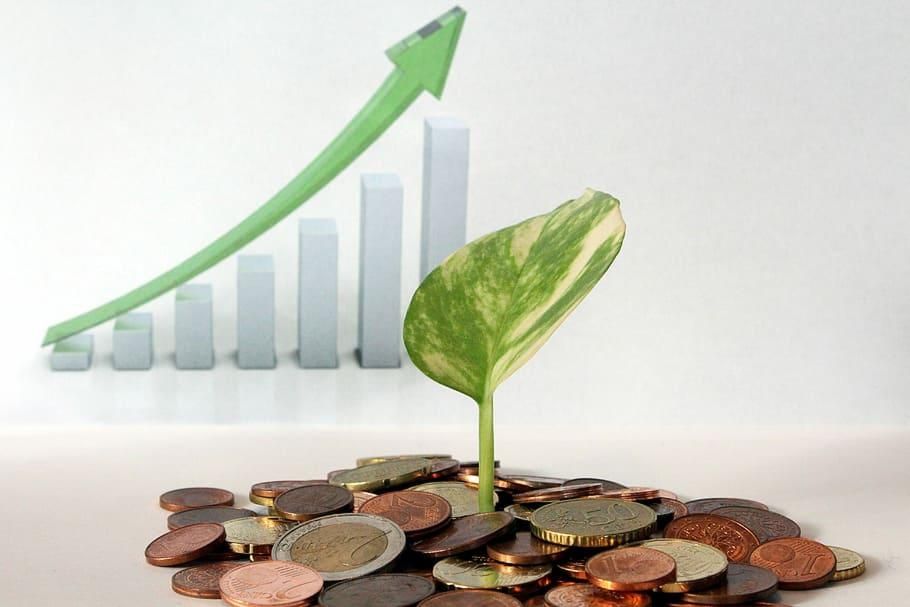 Sustainable data centers are the new normal in cloud computing and urban megacity society in the Digital Transformation and Connected Everything Era.
Furthermore, environmental, social and governance (ESG) fund managers outperformed the broad market in the last few months during COVID-19, proving clean energy assets are a safe and better investment.
Simply put, it makes good sense for data centers to embrace the Sustainability Cost of Ownership to create more benefits for planet, people, and profit.
It is inspirational for the data center sustainability pioneers to ambitiously maintain the exponential growth of digital services and data center infrastructure during the COVID-19 pandemic to serve Billions of virtual meeting minutes per day, while maintaining a lead to minimize harm to the planet and people and scale a profitable venture in this challenging times.
Where to start: rethinking the Cost of Ownership
Data Center has traditionally measured its investment in form of the site Total Cost of Ownership (TCO), which describes the sum of operational and capital expenses involved in constructing and maintaining a data center.
TCO accounts for all site expenditures that are included in the data center's build and operation, such as the total cost involved in obtaining, utilizing, installing, sustaining, disposing and changing IT and data center assets.
For a data center owned by a company, data center pricing will primarily depend on power delivery and cooling. But in data center collocation or wholesale data centers, the cost depends on kilowatts per cabinet, or megawatts/ kilowatts per space or module. The process of creating a site TCO usually starts with
Establishing a baseline for the energy costs for the site which includes power capacity for each energy source over the expected lifespan of the site

Calculating the direct and indirect costs and overheads involved with the data center build and operation and the capacity expansion plan

Incorporating the legal expenses, relating to site inspections, site permits, local compliance and legal regulatory costs required for a data center build.
A larger perspective is more complex, but bears more opportunity
We can no longer measure the total cost of ownership for a Data Center solely in terms of economic costs for the traditional design, construction, and operation expense of a data center single site per megawatt installed.
We must incorporate environmental and social costs into a Sustainable Cost of Ownership for an end-to-end life cycle cost assessment and accountability.
That includes data center life cycle costs of carbon footprint, greenhouse gas (GHG) emissions generated per kilowatt-hour of power used by a data center site.
This does not include synthetic instruments, such as a renewable power purchase agreement to do an offset. Hereby, the data center site still consumes fossil fuel generated power. It still produces e-waste to the environment, consumes rare earths and construction materials.
To all this, one must add the resources used in form of embodied energy used in transportation of the materials to the data center and resources used to discard the materials waste to the environment after use.
Baseline - 1 Megawatt Data Center per annum is responsible for

7,780,000 lbs CO2-eq
According to the Environmental Protection Agency (EPA) Greenhouse Gas Equivalencies Calculator for CO2, SO2 and NOX emission rates)
The data center and ICT industry are presented with a profound opportunity to increase our responsibility in this era.
To rethink "business as usual"; to re-envision net zero in site selection; to transition to clean energy infrastructure

To take responsibility in clean energy generation

To measure resource consumption; to eliminate waste

To design for recycling, remanufacturing, disassembly, and reuse.
In improving our global sustainability efforts, we need to be accountable with regards to measuring the true costs of our choices economically, environmentally, and socially.

Transitioning to a net zero (carbon, emission, waste) for a 1-megawatt data center for one year is equivalent to:
Eliminate Over 8,750,000 Miles
driven by an average passenger vehicle

Energy for Over 550 Homes'
electricity use for one year

Carbon Absorbed by Over 4,600 Acres
of U.S. forests in one year
Sustainability through design and measurement
Sustainability has often been viewed through the lens of choices. That is the primary power of an individual consumer or business: When making purchasing decisions, do I choose the sustainable or unsustainable options?
And, to the credit of many visionaries and determined individuals, the data center industry has pushed other sectors of the global economy to make sustainability a realistic choice.

The environmental costs of a fossil fuel powered data center are often not represented in the conventional measure of a TCO. Using the best practice of Caron Free Energy (CFE) data centers illustrations from industry pioneers; each with its own innovation approach; 24x7 matching and Net Zero anywhere can further the understanding of Sustainability Cost of Ownership as a metric.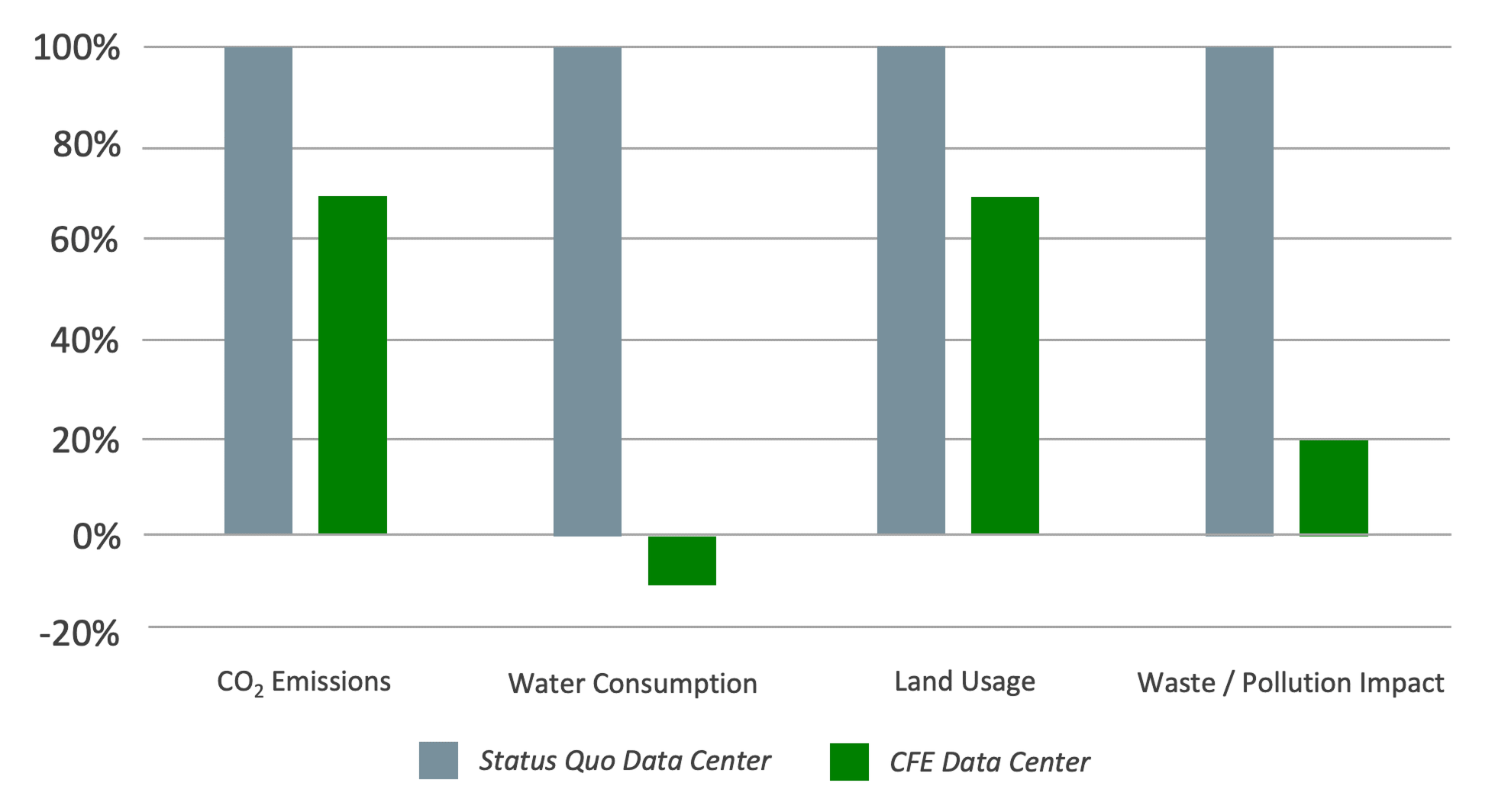 Illustration: Google 24x7 CFE matching
Google has been a pioneering force in using Power Purchase Agreements (PPAs) to bring about renewable energy development. As of writing, the company has signed PPAs or other energy procurement agreements for over 3.1 gigawatts of renewable energy in the U.S., Europe, and South America.
On Earth Day in 2020, Google published an inside look at its electricity sources around the globe, to gauge how they are tracking toward carbon-free energy on a 24x7 basis on site with location-specific "Carbon Heat Maps" to visualize how well a data center is matched with carbon-free energy on an hour-by-hour basis.
Their efforts take a departure from "business as usual" and from energy offset by still using fossil fuels, as well as take responsibility in design and measure of clean energy generation and consumption to achieve net zero.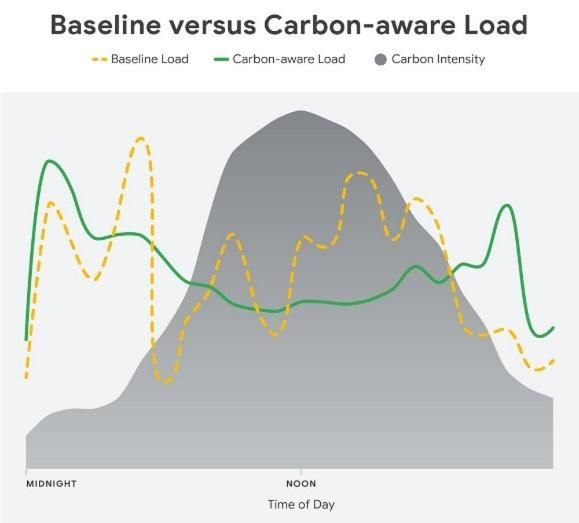 Source: https://www.blog.google/inside-google/infrastructure/data-centers-work-harder-sun-shines-wind-blows/
The workload is analyzed of its priority, categorized by how it is processed with the sustainability cost concept of clean energy resource use.
Google embraces a new carbon-intelligent computing platform to get closer to 24x7 carbon-free energy – all without additional computer hardware and without impacting the performance of Google services like Search, Maps and YouTube that people rely on around the clock.
By shifting the timing of non-urgent compute tasks — like creating new filter features on Google Photos, YouTube video processing, or adding new words to Google Translate — helps reduce the electrical grid's carbon footprint, resource utilization while achieving 24x7 carbon-free energy goal.

Illustration: InfraPrime Net Zero CFE anywhere
InfraPrime is a provider of carbon free energy design (CFE) to accelerate clean energy transition for all data centers with net zero results. The EcoPrime Power module is a good illustration for Sustainability Cost of Ownership metric which encompass the traditional TCO metric of CAPEx and OPEX reduced expenditure of a CFE offering to meet the carbon neutral/negative goals for data centers. It also details the net zero benefits to the environments and society, compared to the status quo of a fossil fuel powered data center using TCO metric.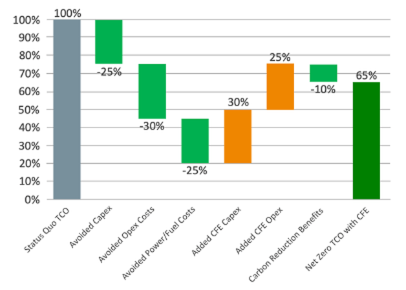 Source: infra-prime.com
InfraPrime makes the following business analysis for how this reduction in cost works and provides the resiliency that data centers need while providing CFE:
Reduce CAPEX by Reducing Resources: By using a CFE design, data centers can drive down their CAPEX. By removing dirty data center components, such as diesel backup generators, we also remove upfront costs of land, materials, and equipment. Paired with the existing gas grid for power and a modular design that has power duality capability, data centers can consume only the resources they need while achieving resiliency, and utilize grid power as a backup source for the data center.

CFE with Power Duality: Onsite CFE can achieve the uptime data center's need via Power Duality, where each data center module has separate, multiple power feeds from CFE onsite energy to ensure uptime 24/7/365 with clean energy.

Make the Grid Your Backup: To ensure extreme resiliency, CFE with Power Duality can be paired with a grid connection for site level redundancy in unpredicted failure scenarios. This means that you can use your onsite CFE with confidence that if unpredicted failure would ever not be handled by the CFE power duality or if there is grid failure, the load remains its uptime.

Reduce OPEX with Sustainable Design: By simplifying the design of the data center we also drive down operational expenses. For example, without auxiliary backup generators there is no training, spare parts upkeep, fuel management, or state clean energy permits compliance. Likewise, by using modular design the facility upkeep is minimal and only grows as your load usage grows.

Site Selection: If possible, we always recommend placing data center loads in places with extremely reliable, clean power grids, such as the Nordics, Arctic where there is abundant of natural hydro-electric power. If not feasible, we can deploy CFE on site for Net Zero data centers. InfraPrime's EcoPrime Power module delivers CFE by using existing gas infrastructure, fuel cells to convert clean energy and in utilizing hydrogen electrolysis; renewable fuel to power data centers and water is created as a by-product in a clean, resilient way to make your sustainable data center benefit net zero (carbon, emission, waste) results and a triple bottom line (economics environmental, societal).

Looking Beyond
I would like to thank the data center industry for continuing its journey towards sustainability. The SDG goals remain a call to action and a blueprint to chart its own course of actions and develop a concrete plan, especially:
Goal #7: Affordable and Clean Energy
Goal #9: Industry Innovation and Infrastructure
Goal #11: Sustainable Cities and Communities
Goal #12: Responsible Consumption and Production
Goal #13: Climate Change Action
I am passionate that our work is needed now more than ever to demonstrate our data center industry's own Sustainable Cost of Ownership scorecard to combat Climate Change. It is wrong to set sustainability goals for 2030 when you can work relentlessly to achieve them in 2025. "A clean data center is not one powered by wind, solar, or hydro. It is one that does not need to be built." She extends an open invitation to join herself as a member of Climate 50 and become a member of Most Influential Climate Leaders in Data Centers and Cloud. We wish to establish an industry wide dialogue, foster collaboration, increase awareness, educate, and accelerate the data center industry as a Sustainable Development Goal leader. Today, together, during the COVID-19 pandemic, the impact has altered the demand of digital infrastructure 24/7 around the world. We can speak up, take a stance, measure our actions, clean up the dirty cloud, and only design, build and operate sustainable data centers to rebuild to a more sustainable future.
Sustainability Cost of Ownership is a tool which can be utilized with Carbon Free Design (CFE) in the transition towards a clean energy future for a sustainable data center in circular economy (CE) sense, by objectively assessing the environmental, social and economic costs, and evaluating alternative options. It is no longer socially acceptable to measure the total cost of ownership (TCO) for Data Center solely in terms of economic costs with TCO. Take a departure from status quo to transition to clean energy and join the carbon free energy (CFE) pioneers, Google and InfraPrime, to assume social responsibility of the environment resource, to embrace the planet and people as your stakeholders of your business.
"To re-think business as usual we must integrate our net resource usage, our impact on the environment and on the society into the very concept of money," said Alberto Ravagni, co-founder and Managing Director of InfraPrime. "Our free markets are very efficient in optimizing the allocation of resources through the price mechanism. Money represents today both the optimization parameter, and the unit of measure for most of our decisions as private individuals or as corporations."
Our interaction with the environment is a social relationship. The resource in our planet is finite. Data Center providers can make contribution in resource capacity through responsible generation, like a deposit to a money account. We extract and deplete resources to make data center products, to build and to operate data centers through responsible consumption, like a withdrawal from a money account. We all understand the basic principles of a data center budget in form of investment and spending/overdraft in our responsibility. We must do a true cost of measure of the data center cost of ownership including the resources we deplete and the waste to the environment to make a positive impact and to society. TCO evolves into a Sustainable Cost of Ownership, which unifies our social responsibility for a net zero (carbon, emission, waste) result of a triple bottom line to the next generation of sustainable data center.
Susanna Kass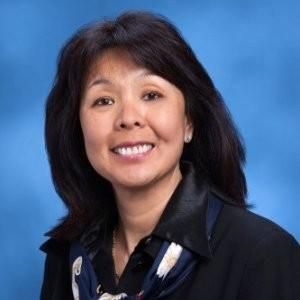 Susanna is an Energy Fellow at Stanford University, and a Researcher and Lecturer at NUS. As a Lead design thinker with a holistic understanding of net zero (carbon, emission, waste) and the impact to urban megastructures, she uses sustainable architectural design tools to research and quantify sustainable materials and the chain of custody from ideation to execution to optimize for a sustainable BOM to keep materials in use.
Today she is a member of climate 50 and advisor to the UNEP DTU partnership.
In her career, Susanna has operated meta-scale eBay, Sun, HP, Goldman Sachs, Microsoft data centers and colocations across 17 countries over 20 years of 24x7x365 operating hours; modular IT, fuel cell, renewable fuel, hydrogen electrolysis, energy storage and managed 500+ person teams. She has developed Sustainable Cost of Ownership metrics for Net Zero data centers, optimized for 24/7 matching, Decarbonizing GHG, Circulytics to reduce waste; while maintaining resiliency, Quality of Service (QoS), Service Level Agreement (SLA) across global cloud operations running on clean energy infrastructure.
A member of Climate 50, Susanna holds various invention patents. Susanna has holds multiple awards and distinctions such as the GSB Alumna Award in Energy from Stanford University, the MBA Alumna Award from Pepperdine University, the Distinguished Entrepreneur Award from NMSU, and the Presidential Entrepreneur Award from SDSU.