28 Apr 2023
CLOUD EXPO 2023: Solutions far beyond cloud storage at Tresorit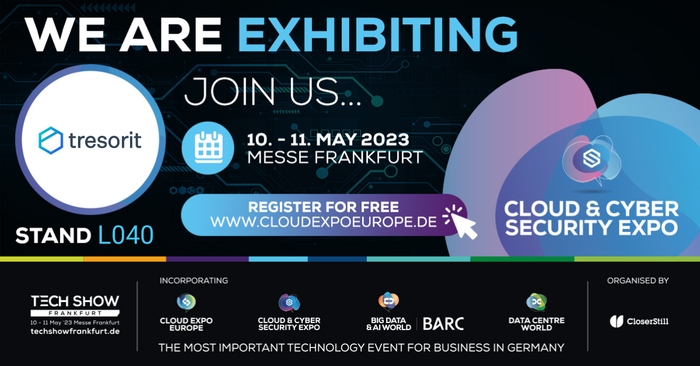 Zurich, 28 April 2023 – Tresorit, Swiss Post's daughter company for ultra-secure collaboration, will
present eSignature innovations at CLOUD EXPO EUROPE 2023 and contribute two topics to the
conference program. Péter Budai, Chief Product Officer at Tresorit, will talk about end-to-end
encryption, myths around it, and compliance. He is a software engineer and heads both the product
management and crypto engineering teams at Tresorit.
In a practical way, he explains how zero-knowledge encryption helps companies meet industry-
specific and general requirements. In his second presentation, he shows why organizations benefit
from securing not only data, but also the processes with which people work.
"At Tresorit, we develop solutions that serve several purposes at once," says Péter Budai, CPO at
Tresorit. "We offer an ultra-secure platform for resource-efficient, that is, paperless and timesaving,
collaboration. What's more, integrated functions like secure file sharing and e-mail encryption can be
used not only with Tresorit, but also with other digital tools coworkers already use, including
Microsoft services. Be it storing, sharing, or signing digital documents and data in general, Tresorit
ensures that they are protected at every step of your process thanks to end-to-end encryption and
consistent application of the zero-knowledge principle. I'm looking forward to exchanging ideas at
Cloud Expo Europe."
First feature from roadmap implemented in time for CEE
Tresorit had published a roadmap in February with the most important strategic milestones for 2023.
At the heart of the planned innovations is a user-centric approach that is reflected in all products and
services. Just in time for Cloud Expo Europe (CEE), the development team was now able to realize the
first planned improvements to a feature.
Tresorit eSign is an integrated feature for easy electronic signatures and enables users to sign digital
documents in a user-friendly yet secure way. The improvements include, among other things,
progress bars, movable field types and functions that facilitate the signing process – as always with
Tresorit, under the strictest "privacy by design" premises.
Following the successful introduction of email encryption last year, this includes the gradual
expansion of Tresorit as a platform for GDPR- and eIDAS-compliant signatures. After the
improvement of the simple electronic signature, the qualified electronic signature will follow across
Europe by the end of 2023.
Further information and availability
Details on the product enhancements of the past year as well as all current features of Tresorit can
be found on the Tresorit website and on-site at the CLOUD EXPO EUROPE FRANKFURT booth L040.
Tresorit eSign and its new improvements are available as of now.